Sometimes, dogs need training. But many times, dogs exhibit behavioral problems out of boredom and anxiety, and these behaviors can be quelled with the right tools. In both cases, dog training tools can help you immensely. And knowing which ones to avoid will make all the difference in your dog's training. 
Listed below are the most common dog training tools used by trainers. We break them down into two categories: 
Fitdog-Approved Dog Training Tools: Tools that can aid in positive reinforcement training. These tools provide corrections and engagement without inflicting harm. 
Dog Training Tools to Avoid: These are tools that cause harm to the dogs and/or are ineffective. 
Thankfully, the world of dog training tools has expanded greatly in recent years. There are so many positive reinforcement-based products on the market that we no longer need to rely on outdated, punishment-based tools. Find out which tools can help you and your dog below! 
Fitdog-Approved Dog Training Tools
These tools balance the trainer's needs with the dog's welfare. They provide solutions to behavioral, walking, and management issues without causing harm or inciting fear. 
GENTLE LEADER HARNESS
What is It? A Gentle Leader is a collar that fits over the dog's nose and the back of the head, similar to a horse's bridle. It prevents the dog from pulling while walking on a leash by redirecting the dog's head toward wherever you are pulling it. 
When to use it? These headcollars are useful for training dogs not to pull while on a leash. Gentle Leaders are particularly helpful for large, strong dogs. It gives the person walking the dog maximum control with greater ease, and it is completely pain-free for the dog. You can buy here. 
FRONT LEAD HARNESS
What is It? A front lead harness is a vest-like harness worn by the dog where the leash attaches to the front of the chest (rather than between the shoulder blades, as on a regular harness). These harnesses prevent dogs from pulling on-leash by attaching the lead to the front of the harness, so dogs must stay by your side while they are walking. If they try to pull, the harness pulls them sideways back towards you. 
When to use it? Front Lead Harnesses are useful in on-leash dog training. Harnesses are also recommended for dogs with sensitive necks and tracheas, such as small dogs or dogs with short nasal passages. You can buy here.
CLICKER
What is It? A Clicker is a small device with a button that makes a clicking sound. Trainers condition the dogs to associate the sound of a click with a reward, usually a treat, by clicking the device and presenting a treat at the moment a dog performs a desired behavior. Over time, the treats are weaned out, and the dog understands the clicker as the reward. 
When to use it? Clickers can be used in all kinds of training, from basic obedience to specialized tricks. It is a common component of Positive Reinforcement (R+) Training. You can buy here.
TREAT POUCHES
What is It? Treat Bags are pouches that sit on your hip and hold dog treats. If you give a dog a treat right when they perform a desired behavior, it's more likely they will understand what they're being rewarded for. So making the treats accessible with a pouch eases the process.
When to use it? Treat pouches are not only great for training sessions, but they are also great for everyday use. Taking a treat pouch with you when you walk your dog or go out in public with them makes it easy to reward your dog for their good behavior. You can buy here.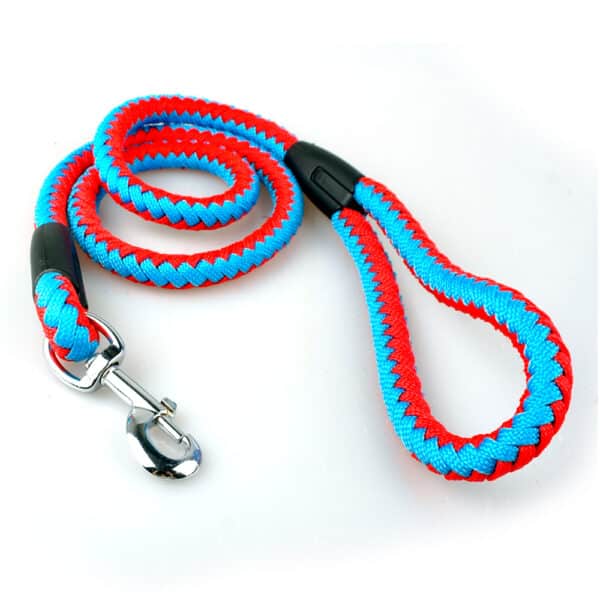 LEADS 
What is It? Leads, aka leashes, are perhaps the most commonly used dog training tool. They attach to a dog's collar or harness at one end, and at the other end, there is usually a loop for the handler to maintain control of the dog. 
When to use it? Leads come in various lengths and can be used for walking and recall training. You can buy here.
TRAINING PLATFORMS / BEDS
What is It? Training platforms are elevated surfaces, such as a dog bed or specific training platform, that provide a visual barrier for dogs so they can hold positions for longer periods of time. This applies to everything from staying in a "place" to stunts and tricks. 
When to use it? Platform training is useful if you want to teach your dog to go to a spot and stay there when told. It is especially useful for dogs who need help with impulse control. You can buy here.
MUZZLE
What is It? A muzzle is a guard that sits over the dog's nose and mouth to prevent their mouth from opening. 
When to use it? Muzzles are particularly useful for socializing dogs who have a bite history. They are best to use during walks and group activities. You can buy here.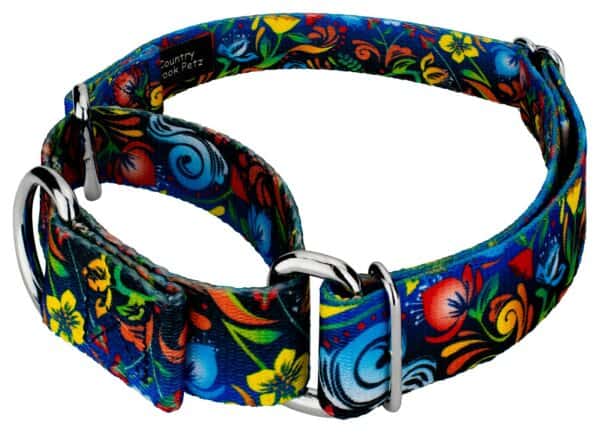 MARTINGALE COLLARS
What is It? A Martingale is a collar that is made of two loops: one that is a collar around the dog's neck, and a smaller one that attaches from the collar and hooks onto the lead. When the dog pulls on the lead, the collar tightens around their neck, preventing the dog from slipping out of the collar. 
When to use it? Martingales are used in on-leash walking training classes. Dogs learn that walking by your side is more comfortable because the slacker their leash, the less pinched their collar is. Martingales can also be used as everyday collars, making it an easy, passive training tool: it will work automatically when you're walking your dog, and over time, your dog's behavior will become corrected. You can buy here.
DOG WHISTLES
What is It? These are high-pitched whistles that produce sounds at a frequency that dogs can hear, but humans cannot. It allows owners to communicate with dogs at long distances and do not hurt the dog's ears.
When to use it? These are handy to use during recall training. They are also quiet, so you can use them in public without alarming people around you. 
PET GATES
What is It? Pet gates are short gates that stretch between doorways. Baby gates also work. They help keep pets in – or out of – a space.
When to use it? Use a baby gate if you need to create spatial boundaries for your dog around the house. You can buy here.
X-PENS
What is It? X-Pens are portable gates that connect to form an enclosure. They are commonly used to create a space for dogs to be able to move around and play with solid boundaries. X-Pens range in size, from large kennels to several yards of square feet. 
When to use it? Use x-pens if you need to leave your dog for a while and want them to have some space to roam about. They can also be used as play areas. You can use here.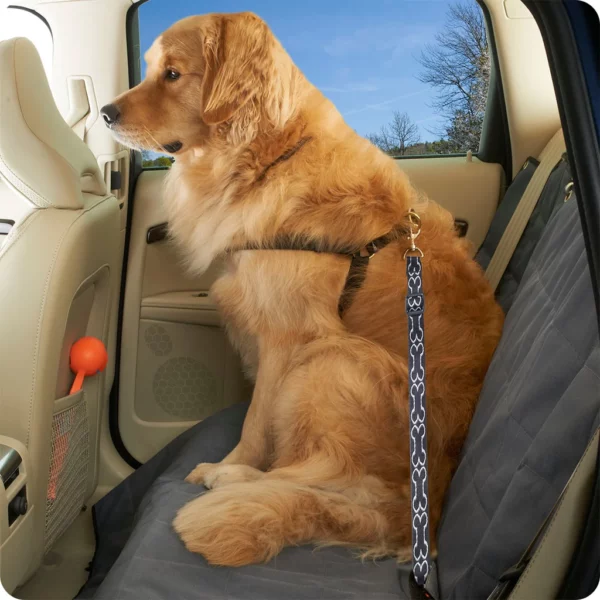 TETHERS
What is It? Tethers are sturdy leads that attach to a wall or post at one end and a collar at the other. They restrict a dog's movement to the length of the tether's radius. 
When to use it? Tethers can be used for so many training applications. From teaching your dog to signal you if they need to potty, to teaching spatial awareness and boundaries, and beyond. You should only use a tether when you're supervising your dog – never leave your dog unattended on a tether. You can buy here.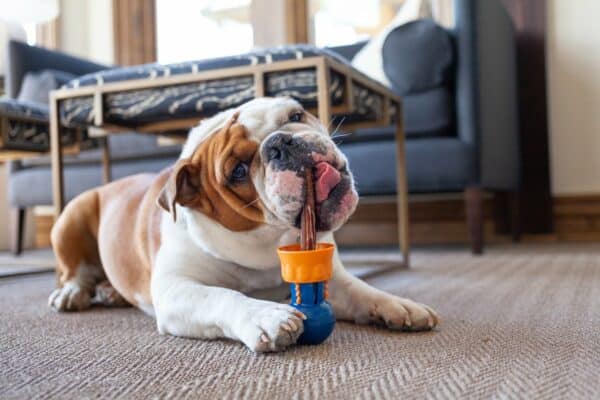 CHEWABLES
What is It? Chewables are food products (such as bully sticks, horns, etc.) that are meant to endure extensive chewing and biting. Chewing is a natural behavior for dogs that is mentally stimulating and relaxing. Plus, it aids their dental health. 
When to use it? Chewables can be used as an everyday reward for your dog. You can use chewables as a way to occupy your dog. It will provide them with a mentally satisfying activity and a tasty snack. You can find our list of chewables here. 
TOYS
What is It? Dog toys range from stuffed toys to balls and frisbees, ropes, and beyond. Toys provide mental and physical stimulation and can be a solution for destructive behavior. Whether your dog likes to tug, fetch, or chew, there is a toy out there for almost every "furiend". 
When to use it? Toys can be used as an everyday tool to provide enrichment for your dog. You can find one of our favorite enrichment toys here.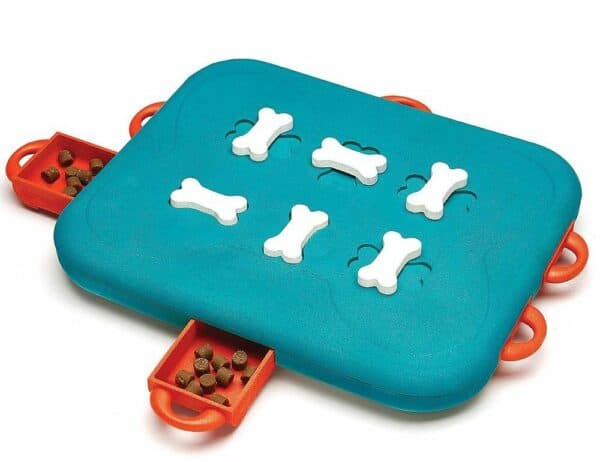 PUZZLES
What is It? Dogs love to solve problems! Many dog toy companies have created puzzle games that aim to occupy dogs by giving them problems to solve. These range from hide-a-squirrel to uncovering hidden treats and more. 
When to use it? Puzzles are especially helpful for smart, mischievous dogs. If your dog keeps getting themselves into trouble, chances are they could use some positive mental stimulation. Puzzles are a great way to give dogs a thorough mental workout. You can find a list of our enrichment puzzles here.
LICK MATS
What is It? Silicon mats with grooves on one side that dogs eat or lick off of. Lick mats provide dogs with mentally stimulating activity and a treat incentive. 
When to use it? Lick mats can be used in many scenarios, including during crate training, bath time, or to help your dog eat slower. You can find a few lick mat options here.
CRATES
What is It? Crates are four-sided enclosures, usually made of gate materials and including a door on one side. Crates should be big enough for dogs to stand up and turn around but small enough to be transportable. 
When to use it? Crates are best used as a designated "safe space" for dogs. Ideally, dogs should have a positive association with their crates so they will eagerly go into one when asked to. Crates can be made cozy with bedding and toys. In addition to being a useful everyday training tool, crates can also be helpful for potty training, spot training, and more. You can buy here.
Dog Training Tools to Avoid
These tools are commonly used but can have harmful impacts on dogs. We advise against using them. 
SHOCK / E-COLLARS
What is It? E-Collars are electric collars that are sometimes used in dog training. Dogs wear the collar, which has an electric box with two prongs that sit against the dog's neck. When the dog displays undesirable behavior, owners or trainers will press a button that sends a strong vibration to the collar. 
Why should you avoid it? The model of a shock collar is one of negative reinforcement. It doesn't show the dog what you want them to do, it just signals that they've done something wrong. Unless you are timing your shock signal exactly right, chances are your dog will not know the reason they're being corrected. Behavior has to be caught right away, and consistently, to be changed. Additionally, studies have shown that dogs trained with shock collars have a more negative disposition compared to those trained without shock collars. 
PRONG COLLARS
What is It? These dog collars are made of metal prongs that sit around a dog's neck, and a small chain that attaches to the lead and tightens the collar when the dog pulls. 
Why should you avoid it? Prong collars are a tool for positive punishment. And they are painful to dogs. Plus, with so many harm-free walking tools available, prong collars are especially unnecessary. 
ANTI-BARK DEVICES
What is It? Anti-Bark Devices range from ultrasonic sound wave devices to e-collars and deterrent sprays. They work by sending a signal, either a high-pitched sound, a vibration, or a spray when the dog starts barking. The most humane of these is the citronella collar, which releases a strong citronella scent when the dog who is wearing it barks. 
Why should you avoid it? Anti-bark devices do not distinguish between types of barks.  Additionally, dogs get a huge rush of dopamine when they bark. If you have a perpetual barker, chances are they will not be deterred by an anti-bark device alone. You need to follow the deterrent with a command such as "quiet" – consistently – in order to see a change in behavior. Even still, it's not guaranteed that dogs will respond to these devices. 
ELECTRIC FENCES
What is It? Electric fences are made of electric transmitters that are placed around the perimeter of a yard. The transmitters communicate with a collar worn by the dog. When the dog crosses the perimeter, they are first given a beep signal, and then if they ignore the beep, the collar gives off a vibration. 
Why should you avoid it? A minor nuisance such as a beep or shock will not stop a determined dog from leaving an area. A more reliable way to ensure your dog will not run – or at least return to you if they do – is by reinforcing their recall skills.  
HORNS
What is It? Many kinds of horns are used in dog training. They are used to emit a loud, disruptive signal to get a dog to stop performing a behavior. 
Why should you avoid it? Horns are not an effective method for promoting good behavior – they only signal to your dog what not to do, if they can make the connection that the loud sound is associated with their behavior.
WATER BOTTLES
What is It? Household spray bottles filled with water. They can be used as an aversive stimulant by spraying dogs when they're behaving badly. 
Why should you avoid it? While it may not inflict pain, using agitating techniques like spraying your dog in the face will only aggravate them. 
Acquiring the right dog training tools can make the training process easier on you and more exciting for your dog. Using aversive dog-training tools will make them less excited to participate, and it could put their well-being at risk. 
Curious about a dog training tool that you don't see listed here? Send us an email at contact@fitdog.com and we'll do our best to help you.
Last updated on September 22, 2023