What's better than a Friday? A Friday you can bring your dog to work with you of course! June 21st is Take Your Dog to Work Day and we couldn't be more excited! This fun tradition began in the US in 1999 in order to promote dog adoption and prove what great companions they make.
Despite the rising popularity of dog-friendly offices, pups still need to be taught how to act in an office setting. That means owners too need to learn how to deal with a dog in the office, and sometimes, your boss needs convincing that this is a holiday worth celebrating.
Bring your dog to work day kit
Here's a short list of everything you need to bring your dog to work:
A leash:

Whether walking through the parking lot or navigating between desks, having a leash handy is always a good idea.
A bed:

This gives your dog a sense of place during the day. Of course, they will probably just sit by your side, or if they're really lucky, your lap. Beds provide security in a new environment, and also a place for them to retreat from the office bustle.
A water bowl: Bringing a water bowl for your dog is important to keep them happy and hydrated for their long work day. With so many collapsible water bowls available, you can find a great fit for you and your dog's style.
Poop bags:

Picking up after your dog is vital to the promotion of dog-friendly offices. Don't ruin someone's day by leaving a surprise for them to step in. Rather, be prepared to pick up after your dog.
Interactive toys and games:

One way to increase productivity on Bring Your Dog to Work Day is by giving your dog a job, too. Bringing a puzzle toy or game stimulates and keeps dogs occupied so you can focus on your work.
Treats:

You might be lucky enough to have an office kitchen stocked with snacks. But do they have dog treats? Bringing your own treats ensures dogs don't feel left out at lunch!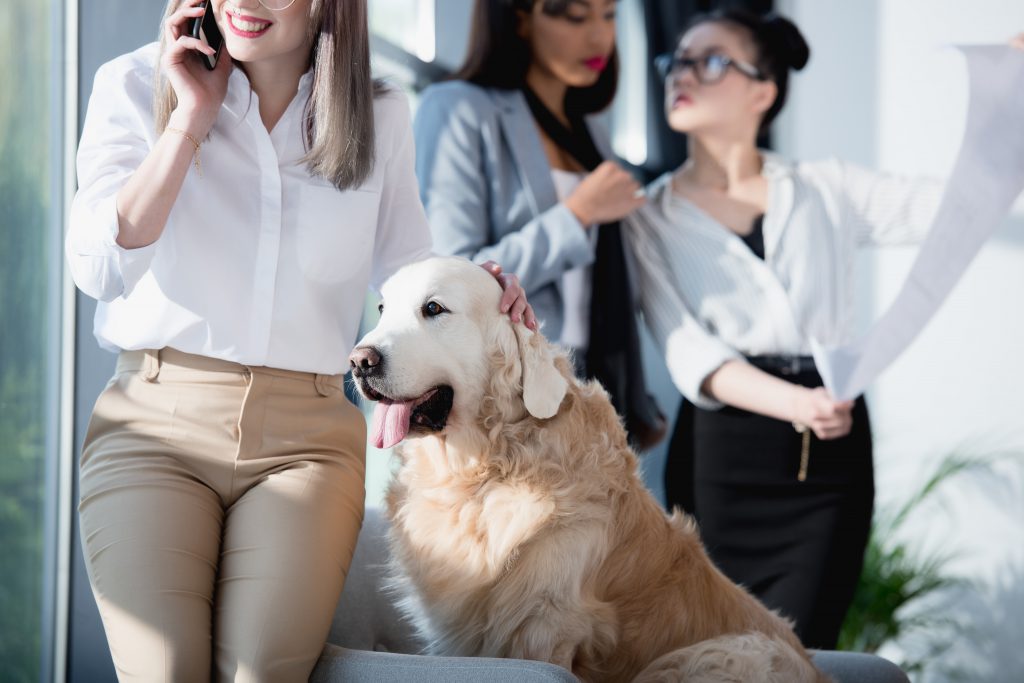 How to know if your dog is office-ready
Does office life suit your dog? Consider the following when getting your dog ready for work:
Personality

| Besides health concerns, the distracting nature of having animals in the office is one of peoples biggest complaints. Barking or hyper dogs can break people's concentration. If your dog is naturally vocal, they may prosper more in a space where they are allowed to be silly and goofy, unlike most offices.

Taking Care of Business

| This goes both ways. Your dog will have to be taken out during the day to eliminate the probability of messes, and you will have to make sure your dog doesn't distract you from working.

Sociability

 | Is your dog uncomfortable around new people, impulsive, or plain unsocial? A day in the office could be stressful for your pup. Know your dog and act accordingly.

So Fresh and So Clean

 | If you can smell your dog, other people can, too. Give dogs a quick rinse before bringing them to work. This eliminates dander and other allergens carried in their coats.
Convincing your boss
This awesome yet unconventional holiday is not just for pet parents. Animal lovers will all appreciate having a change of pace with an in-house puppy party. Having dog-friendly offices have been shown to boost morale, camaraderie, and employee satisfaction. If your boss is hesitant to let your office participate, check out our preparedness checklists, and some ideas on how to celebrate with your team.
Ideas for celebrating Bring your dog to work day
Special days like this call for celebration! If you're looking for a way to celebrate this awesome holiday in your office, take some of these ideas into consideration. Or, if you're thinking of asking your boss about instituting this celebration, you can use these points for leverage:
Take the opportunity to educate your office about pet adoption. Use this chance to be an animal advocate and encourage people to adopt.

Set up a doggie photo booth. That way, employees have a souvenir of their awesome day.

Organize a group walk. Most people have desk jobs. Getting the pack out for a group walk promotes camaraderie and good health. And it's a fun way to switch up the day!

Use it as a PR opportunity. By taking photos and writing about your office's participation, you can write an article highlighting your office's awesome work environment.

Have a lunchtime mixer with yummy snacks for dogs and humans alike. But be aware if your dog is food aggressive and if they are, leave them out of the treat mingle.

Make it a puppy party! Simply having dogs in the office is shown to boost employee morale. Carve out a break where employees can love on the dogs.
With so many ways to celebrate Bring Your Pet to Work Day, you can truly make it a party worth wagging about. Good luck to all who are proposing this celebration to their bosses. We hope everyone can celebrate this wonderful holiday!
Post updated 6/14/2019